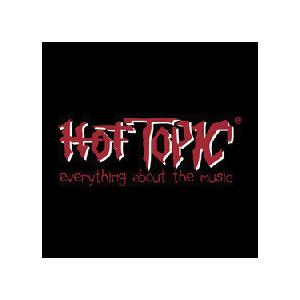 HOT TOPIC
Offering a hip array of teen accessories, shoes and apparel inspired by music.
See full property >
Black & White Tie Dye Pullover Hoodie
Valid from October 16, 2017 to October 23, 2017
A tie dye pullover hoodie that proves not all sweaters need to be colorful to stand out. The dynamic design of white and black in a unique dye pattern makes this a must-have. Kangaroo front pocket. Stop by and shop.
---
Hands Like Houses Logo T-Shirt
Valid from October 17, 2017 to October 24, 2017
Maroon T-shirt from Canberra, Australia's rockin' Hands Like Houses with stylized logo designs featured on the front and back. Stop by and shop.
---
Babymetal Purple Fox T-Shirt
Valid from October 18, 2017 to October 25, 2017
This black tee is everything kawaii metal is all about. Featuring a colorful design that depicts the Fox God and the members of Babymetal, it's the perfect tee mosh'sh in. Stop by and shop.
---